Discover new perspectives! Visit Germany's libraries
and virtual conferences held in Germany!


You are working in a library or an information organization?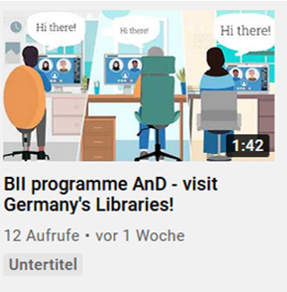 If you are a foreign library expert or information professional, expand your professional horizons in Germany with the support of BI-International. Gain new experiences in direct exchange with German colleagues and establish new professional relationships. Find out about current developments in Germany and take new findings back to your home country and institution.


--> watch our Youtube-Video about BII funding programmes

---
NEW in 2021: BII supports participation in virtual conferences in Germany
Librarians and information professionals can receive full funding for an online participation in a virtual or hybrid conference held in Germany. Funding is possible for registrations fees from 50 € / or 100 € (applications from High Income Countries). Due to the pandemic, in 2021 the deadline for applications ends 14 days BEFORE the online conference starts!

---> see application form here
---
If you plan your trip to Germany, we can support you financially:


Employees in libraries and information institutions who have currently a job position and who are actively involved in professional life can participate in our funding programmes.

The aim is to sponsor and support the international exchange of experience and knowledge in the field of libraries and information as well as face-to-face meetings between international and German librarians and library experts.

BI-International may offer financial grants not only for virtual but also for face to face conferences,  professional visits or study trips for librarians and library experts who want to visit Germany's libraries. 


Funding programmes and grants for "Foreign Library Experts to Germany (AnD)"
To apply for a grant, please read carefully our Info Sheets about the programmes and more information under the menu item GRANTS for Professional visits, study trips or specialist events and congress attendance.

If you would like to apply for a trip, please fill in the relevant online web form. A first time registration is required. After that, you may reach the application forms directly with username/password here.

Please contact us if you have any technical troubles.

You may find any further information also in the FAQ section.

BII and the current pandemic situation:


BI-International is trying to find individual solutions for scholarships already granted, should the current situation prevent or complicate a planned stay in Germany. Already granted scholarships remain valid until the end of the year. Already confirmed grants for i.e. postponed conferences to next year will be individually considered. You need to fill out an application again next year. Please contact the bii@bi-international.de if you have any special questions.
---


We recommend a recent version of FireFox, Chrome, Safari or Edge for security reasons as well as for the optimal performance of the page. Please use a desktop PC and no mobile device.