Information about Libraries in Germany
Below you may find some addresses to start a research for an institution on your own. The following links and pages might help you for an orientation. Please check also our Blog NEWS and explore destinations within reports of former BII-fellows.

Some general information and addresses:

The German Library Portal provides Information on Libraries in Germany which might be a good first orientation over the landscape and variety of all kinds of libraries in Germany. Please take a look.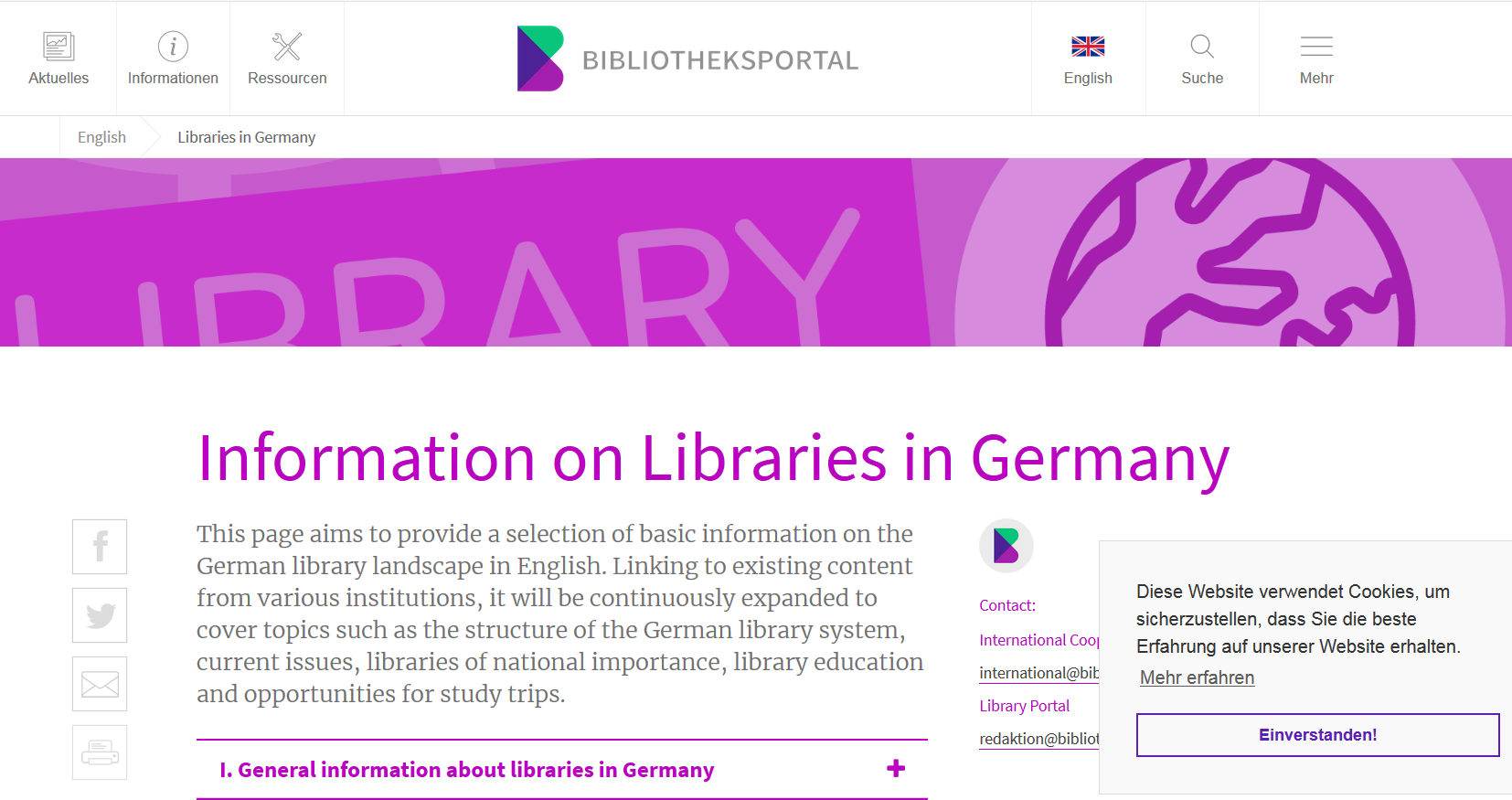 Screenshot German Library Portal
Foto: 2018
Wikipedia lists Libraries in Germany as well, which might not be complete but a start for a research for an institution. Just click here on an institution of your interest and it takes you to the appropriate Wikipedia-Page with additional information and direct links to the institution.

The website of the Goethe-Institute hat a seperate library section and may also give a good orientation about the German library scene.



Main national library institutions in Germany:

German National Library / Deutsche Nationalbibliothek hosting the German Music Archive / Deutsches Musikarchiv

Bavarian State Library / Bayerische Staatsbibliothek

Berlin State Library / Staatsbibliothek Preußischer Kulturbesitz

German National Library of Economics / Deutsche Zentralbibliothek für Wirtschaftswissenschaften

TIB Leibniz Information Center for Science and Technology University Library / TIB Hannover

Information Center for Life Sciences / ZBMed - Zentralbibliothek für Medizin

Libraries of the Goethe-Institutes in Germany and worldwide

Libraries of the Max-Planck-Societies in Germany


Main Library Associations:

German Library Association / Deutscher Bibliotheksverband (dbv)

Association of German Librarians / Verein Deutscher Bibliothekarinnen und Bibliothekare (VDB)

Professional Association for Information and Library / Berufsverband Information Bibliothek (BIB)

Association of Special Libraries in Germany / ASpB Arbeitsgemeinschaft der Spezialbibliotheken

Association of Medical Libraries in Germany / AGMB Arbeitsgemeinschaft der Medizinbibliotheken

Association of Art and Museum Libraries in Germany / arthistoricum.net

German Association for Information and Knowledge / Deutsche Gesellschaft für Information und Wissen e.V. (DGI)

Association of German Archivists / Verband Deutscher Archivarinnen und Archivare (no English website)